Calculators
Betting Calculators - Check Your Sports Betting Returns
Bet calculators can be applied to all bets, from simple singles to complicated multiple or system bets.
Maximize your winnings with our free calculators.
Find more about our sports betting calculators. Take your returns to the next level!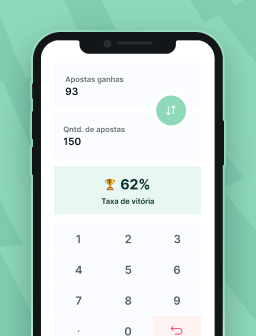 Create your account
Register now and get access to the best sports betting bonuses.
What is a Sports Betting Calculator?
A sports betting calculator is a system that allows you to input your stake & odds in various formats to quickly calculate the payout for your bets. This type of system is very handy both for evaluating the possible winnings, as well as to know the possible losses.
Our betting calculators are easy-to-use, and they will give you a clear picture of the possible events that will occur when placing a bet. Our calculators will indicate which values must be entered by a punter.
Best of all, the formulas in our calculators are already built, and the bettor only needs to enter the values ​​that he already has.
Overall, our sports betting calculator will help you in maximizing gains, make better bets, improve bankroll management, and more.
Odds Scanner Sports Betting Calculators
If you are looking to quickly determine whether you can lock in a risk-free profit by betting on a sporting event, look no further than the gambling calculators available on our website.
Our betting calculator will help you calculate the winnings and determine your potential winnings more accurately.
Odds Converter
Odds typically represent the ratio between the amounts staked by parties to a wager or bet. Likewise, the odds convertor calculator is a tool that allows you to enter your odds in various formats like American, decimal or fractional formats and translate them into the format you want.
With our odds convertor calculator, you can compare how different outcomes on each selection might affect your profits before placing your bet. Moreover, the calculator is fully customizable and comprehensive in the options it offers, since they tell you how much one stands to gain for a given amount of bet.
Accumulator Calculator
An accumulator bet is a wager that combines multiple single bets to create one larger bet. To win an accumulator bet, all the outcomes in the bet need to be correct. In an accumulator bet, the payout is much bigger than what you would have made if you had placed each bet individually.
Accumulator calculators allow you to calculate the payout of your bets quickly. You need to simply enter your total bet amount, then fill in the moneyline odds for each leg, and the total payout will update automatically.
EV+ & Value Calculator
Bets that hold an advantage against a bookmaker or another user on a betting platform are considered value bets.
Our value bets tool helps you find interesting bets with mathematically calculated selections where the probability of the outcome is greater than the odds reflect. By using a value calculator, you can see the value you are expected to receive for a bet based on the probability of that outcome occurring.
Arbitrage & Surebet Calculator
Arbitrage betting, which is sometimes referred to as sure betting, is a strategy that yields certain profits when you place bets on all possible outcomes of an event.
As such, the arbitrage calculator distributes your capital into individual bets and calculates your profit from surebet while you simply enter odds.
With the help of this calculator, you can check if some bet offers an arbitrage or not. In addition, you also get your bet sizes as outputs to make optimized surebet for maximum gains.
Hedge Calculator
Hedge betting is a sports betting strategy in which a bettor takes the opposite side of his original bet once the likelihood of winning an original bet increases.
With the help of a hedge calculator, you can see how you can guarantee yourself a profit on your live bets.
As for how this works, you simply need to enter your bets and see how much you need to hedge.
Margin & Hold Calculator
Margin betting is a type of betting whereby the bookmaker breaks up the number of possible outcomes by creating a points margin. This type of bet involves selecting a team to win as well as selecting the correct margin.
A margin calculator will help you to input your odds and see the implied probability and fair odds, as well as how much the bookmaker is charging you.
Fair Line & No-Vig Calculator
A fair line bet is a study that a sportsbook carries out to determine a price for a selection. These are the fair odds, meaning the bettor and the sportsbook have the same chances of winning a bet.
A fair line, or no-vig calculator, is used to calculate fair odds from a market. The calculators use the bookmakers' edge and the proportions of the odds to determine proportionality between the odds. This calculator can be used to compare market prices and win probabilities.
Why You Should Use Our Free Betting Calculators
Betting calculators are very important as they help you quickly calculate different types of values and parameters. Our betting calculator works pretty much the same, but it comes with the Odds Scanner's brand values, which makes it one of a kind.
As for how you can use this free tool, you can calculate various values and parameters like the percentage of profit, the percentage of loss, the odds format, and so much more with it.
Cutting-Edge Technology
Odds Scanner betting calculators are designed to help both novice as well as experienced bettors. Our betting calculators are flexible and constantly updated to help you make informed decisions before placing a bet.
To increase player win rates and help them make more money, we update our tools regularly by working with the latest technologies in the betting industry. Ultimately, these tools will help you take a mathematical approach to choosing your bets without you needing to be a mathematical genius.
Approved by Experts
We regularly work with several enthusiastic experts in the sports betting industry to produce the best outcome on our website. With their extensive experience in the sports betting market, they provide valuable guidance, give credible opinions, and review our calculators to make the best in the industry.
You can rely on our calculators to always give you accurate information, as they are credible and approved by experts.
Easy to Use
Being able to calculate how much a bet returns for any given stake is one of the basics of betting, and our Odds Scanner betting calculator simplifies this process for punters.
Moreover, our betting calculators are free and easy-to-use that allows players to convert implied odds. The calculator allows bettors to calculate the potential payout in whichever format they choose to enter them — single bet or multiple bet
Betting Calculators Frequently Asked Questions
If you are looking for more information about betting calculators, then check out the below answers to the most frequently asked questions below.
How Much Will My Bet Win?
To know how much your bet will win, you need to use a betting calculator tool. This will help you check what your potential winnings will be depending on — your odds, your stake, and the type of bet you choose. All you need to do is enter the required details, and our betting calculator will predict your earnings and show your expected profit.
Are Betting Calculators Difficult to Use?
No, betting calculators are not difficult to use. In fact, they are quick and easy to use, even for complex bets. When it comes to Odds Scanner's betting calculators, they are simple and easy as they can get.
After all, it allows you to calculate the potential payout in whichever format you choose to enter them — single bet or multiple bet.
How Do You Enter Information into a Betting Calculator?
Entering information into a betting calculator is very easy. First, you need to select the format of the odds. Next, you need to enter the odds you have been given. Now, you must enter the amount you wish to place on a bet. Lastly, you need to click on calculate to see your possible profit.
How Do You Work Out Betting Odds on a Calculator?
As a bettor, you should be able to understand the elements of a bet and the mathematics used to determine the return on any stakes for a bet. A betting odds calculator uses the same criteria to simplify and streamline the process. Remember to incorporate this principle while doing your calculations and placing bets.
Why Should I Use a Betting Calculator?
A betting calculator is a very useful tool that helps you find how much you can win by placing a certain bet.  Bookmakers create their own complex algorithms based on a range of criteria to determine their sports betting odds, and you can use betting calculators to assess and determine your potential payout.